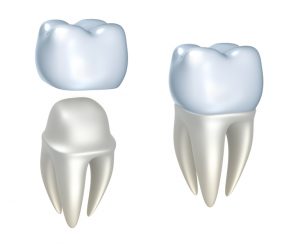 If you have a tooth the has experienced significant damage or one that is abnormally shaped, a dental crown could be right for you. Dental crowns are used for a diversity of purposes, which is why they are commonly a part of both restorative and cosmetic dentistry. With a high-quality crown, you will enhance the appearance and function of a tooth. Dr. Gerard Cuomo provides dental crowns in Boca Raton. After accessing your dental situation, he will discuss his treatment recommendations.

What is a Dental Crown?
A dental crown is a custom-made cap that is placed over a tooth. Using impressions and images of the tooth, the crown is made to meet the exact size and shape you need in order to function like a natural tooth. While crowns were typically made from metal in the past, now various materials are used, such as porcelain and ceramic. With all-ceramic restorations, the crowns can now be made to look like a natural tooth. As a result, you not only gain the functional and protective benefits of crowns, but aesthetic benefits as well.
Why are Dental Crowns Needed?
Dental crowns are very versatile, allowing them to be used for a wide range of purposes. Often, a crown is used to restore a tooth's health, function, and appearance when it has become severely damaged. For example, if a tooth has broken or decayed, the crown will protect the tooth from further damage. In some cases, a crown is used as a preventive measure, such as for teeth that have become weakened or severely worn.
Now, crowns are often used in cosmetic dentistry as well. Using natural-looking materials, severely discolored or abnormally shaped teeth are given a more attractive appearance. It is not uncommon for crowns the be combined with other dental procedures, such as to hold a dental bridge in place or to cover a dental implant.
What Can I Expect with the Procedure?
Receiving a dental crown is a simple procedure. After Dr. Cuomo examines the tooth and takes images, the tooth is prepared. This involves removing areas of damage and reshaping the tooth. Then, digital images of the tooth are taken to create the high-quality restoration. This information is sent to our CAD/CAM software, where we create the specifics for your crown, such as the color and shape.
Finally, the information is sent to our in-office milling machine. Your restoration will be created from a single block of ceramic material. In about an hour, your restoration will be ready to be bonded to your tooth.
Where Can I Get a Dental Crown?
Dr. Cuomo is specially trained in restorative and cosmetic dentistry to provide high-quality dental crowns. After performing a consultation, he will discuss your treatment options to create a personalized treatment plan.
With the best advancements in dentistry and the trusted experience of Dr. Cuomo, you will have a superlative dental crown for effective treatment. If you need a dental crown, benefit from the best with Dr. Cuomo. Contact our office today to schedule a consultation.