Perfecting Smiles with Porcelain Veneers in Boca Raton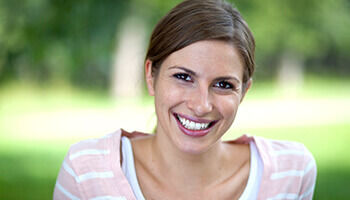 When you see the smiles that magazine models and celebrities have, do you feel envious? Certain flaws make it difficult to smile with genuine confidence. Maybe you struggle with staining, for instance, or have teeth that are chipped or cracked. Whatever your situation, we have good news for you. The beautiful, sparkling smiles you see on others are often the work of a skilled cosmetic dentist, and it's possible to have the results you've always wanted with porcelain veneers. Using porcelain veneers, we help you achieve long-lasting, stain-resistant results in as little as two appointments.
What Are Porcelain Veneers
Porcelain veneers are made from thin sheaths of high-quality, stain-resistant porcelain. These pieces are layered over your front teeth to conceal flaws and create the appearance of a naturally beautiful smile.
What to Expect
During your first appointment, Dr. Cuomo will prep your teeth by removing a small amount of surface material from your teeth. He spends the first visit designing your veneers and applying a temporary set. When our lab has finished making your permanent veneers, you'll return to our Boca Raton dental office to have your temporaries removed and replaced with the custom-made set from our lab. Because they've been carefully designed to complement your overall appearance, the finished results will be dazzling and look completely natural.
Results You Can Depend On
With his years of experience, you can count on Dr. Cuomo to create beautiful results. We approach treatment with delicacy and commitment to designing veneers that are a perfect match for your overall appearance considering the shape of teeth as well as current color.
If you have questions about treatment with porcelain veneers, we hope you'll get in touch with our dedicated dental team. We're always happy to hear from existing patients or from those considering us for the first time.
---
---
Other Cosmetic Services
Tooth Colored Fillings Cosmetic Bonding All-Ceramic Restorations Teeth Whitening Smile Evaluations