All-on-4 Dental Implants in Boca Raton, FL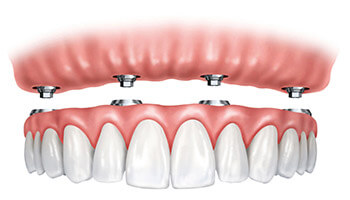 With All-on-4 dental implants, patients with missing teeth enjoy the benefits of a completely restored smile in as little as one visit to our Boca Raton dental office. Though it may sound too good to be true, replacing missing teeth quickly and effectively is possible with the advanced All-on-4 implant system.
Treatment with All-on-4 dental implants involves the implanting of just four dental implants. As with a traditional implant procedure, these implants are placed within the bone of the patient's jaw. Afterwards, a customized dental prosthetic—specifically a full upper or lower denture—is affixed to the posts. Because the posterior implants in an All-on-4 procedure are tilted, even patients who have experienced a moderate level of bone loss can still qualify for treatment.
Additional benefits of All-on-4 dental implants include:
Substantially reduced healing time
Dentures can be placed immediately following the implant surgery
Teeth are fully secure with no need for denture adhesive
Extremely high success rate and overall patient satisfaction
What's more, the All-on-4 method of treatment is cost-effective compared to conventional implants.
Would you like to learn more about All-on-4 dental implants? Contact our office today to speak to a member of our caring team. We are happy to answer questions and schedule a consultation. During your visit to our Boca Raton dental office, we help you understand how All-on-4 dental implants help patients reclaim their smiles and lives.
---