Oral Cancer Screenings for Boca Raton, FL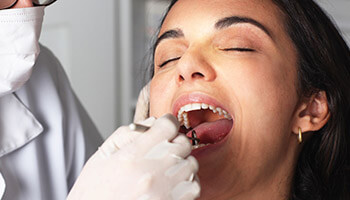 As part of our Boca Raton office's dedication to preventive care, we're committed to offering oral cancer screenings. Every year, thousands of new oral cancer diagnoses are made, and approximately one person dies from oral cancer every hour. As grim as these facts are, they're what fuel our commitment to helping patients identify and stop this serious problem before it develops. In too many cases, oral cancer isn't diagnosed until it's already advanced. By that time, a full recovery may not be possible. With regular oral cancer screenings, we hope to reverse this all-too-common story.
Risk Factors Associated with Oral Cancer
Certain risky behaviors stand out for their connection to oral cancer: tobacco use and excessive alcohol consumption. These aren't the only risk factors. Constant sunlight exposure has also been linked with oral cancer, and at least 25 percent of cases have a connection with the human papillomavirus (HPV). What all of this means is patients don't have to smoke or drink excessively to be at-risk for developing oral cancer.
What Are We Looking For?
We use advanced technology to look for areas of concern before they're visible to the naked eye. As with cavity detection, this is the best method for providing patients with effective care. Once the warning signs become visible, patients odds of making a full recovery decrease.
Signs of oral cancer include:
A flat, painless spot that is white or red
A bleeding sore that doesn't heal
A color change of the oral tissues
A lump or small, eroded area
Pain, tenderness, or numbness in the mouth or on lips
How Often Should I See Dr. Cuomo for a Checkup?
We recommend coming to our Boca Raton dental office twice a year for general and preventive care. If you notice changes in your mouth between checkups, don't hesitate to let us know. We want to be your partners in combating this serious and life-threatening condition. If you're diagnosed with oral cancer, we promise to work with you on a personalized treatment plan.
---
Other Preventive Services
Checkups & Cleanings Preventive Care Products Microscope Decay Detection Sleep Apnea Treatment Bruxism & Nightguards