Microscope Enhanced Dentistry In Boca Raton
Dr. Cuomo Offers the Latest Advancement – Microscope Enhanced Dentistry
| | |
| --- | --- |
| Low Magnification | High Magnification |
Today more than ever, the world is embracing technological advances in a quest to promote a higher quality of dental care. A leading area of research is microscope-enhanced dentistry, which explores perfecting everyday dental procedures, such as cosmetic dentistry and restorative dental treatments, through the use of high magnification. The microscope, along with its fiber optic light makes it possible to find problems that were once undetectable by the naked eye and loupes.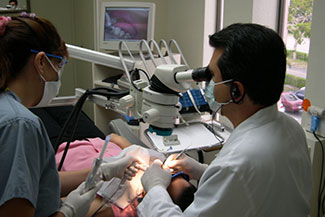 Most dentists use dental loupes to enhance vision during dental exams and treatment. These loupes are usually worn in combination with corrective glasses and provide limited levels of magnification. Dr. Cuomo has taken visualization to a higher level. With the turn of a knob, he can see any object at six different levels of magnification—from 3 to 20 times the normal size. The quality of care provided through advanced magnification is remarkable and is provided to every patient who walks through the door of Dr. Cuomo's Boca Raton dental office. All of his operatories are equipped with microscopes, and from diagnosis to treatment, microscope-enhanced dentistry is an integral part of our dentistry services.
How We Use This Revolutionary Technology
One of the primary ways that we use the advanced microscope is to diagnose early-stage decay. Tooth decay is one of the most common dental problems, and left untreated, it can have a dramatic impact on the health and strength of teeth. With advanced technology, we stop decay before it has an opportunity to dramatically harm teeth.
In a similar way, we use technology to diagnose oral cancer before it's visible with the naked eye. In too many cases, oral cancer isn't diagnosed until it's already reached an advanced stage. At this point, making a full recovery is difficult. Our hope is to provide the essential care you need as early as possible so you can successfully conquer oral cancer.
Would you like to learn more about microscope-enhanced dentistry? We welcome your questions. Simply give us a call to speak with one of our friendly Boca Raton team members.
---
---