Restoring Boca Raton Smiles with Restorative Dentistry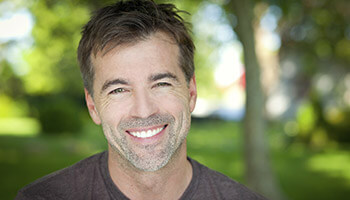 "Wear and tear" isn't just something you have to worry about with your car. That phrase also applies to your oral health. With every meal you enjoy, your teeth are being used to grind and chew the food you eat. Some patients struggle with unconscious teeth grinding and clenching in the form of bruxism, a neuromuscular condition triggered by stress. Both activities result in worn teeth. Acidic drinks, candy, and sweets contribute by increasing the amount of harmful, tooth decay causing bacteria.
At Dr. Cuomo's Boca Raton dental office, we take restorative dentistry seriously. Rebuilding a decayed or broken tooth with a crown improves structure and strength, and replacing a missing tooth with a bridge fills the gap in your smile and prevent teeth from shifting out of their correct alignment. We offer full dentures to help patients replace more teeth and improve the face's internal structure
Which Service Is Right for You?
We strive to offer a comprehensive range of services, and make a dramatic difference in the lives of our Boca Raton patients. But before recommending any particular service, Dr. Cuomo completes a full oral exam. With this exam, we gain deeper understanding of your needs so we can craft the most personalized treatment plan possible. We look forwarding to helping you smile beautifully!
---
Our Restorative Services
Crowns & Bridges Full-Mouth Reconstruction Dentures & Partials