Bruxism & Night Guards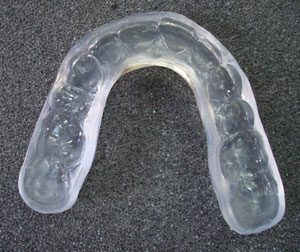 Bruxism is the unconscious and involuntary habit of clenching and grinding teeth. If you have this habit, you most likely are not even aware that you have it unless your spouse or a roommate lets you know that you are doing it in your sleep. Bruxism is a common problem and is often related to stress. Over time, your teeth can become flattened and worn right through to dentin (the interior portion of your tooth). Various problems such as sensitivity to chewing and cold, as well as muscle and jaw joint problems can result.
After a thorough examination and evaluation of your wear and symptoms, Dr. Cuomo may recommend a night guard which is an appliance that you wear at night (and sometimes during the day). The night guard will help with bruxism, aide in the prevention of worn teeth, and can help if you are experiencing pain in the TMJ (temporomandibular joint).
---
Other Preventive Services
Checkups & Cleanings Preventive Care Products Microscope Decay Detection Oral Cancer Screenings Sleep Apnea Treatment