Evaluate your smile, discover your options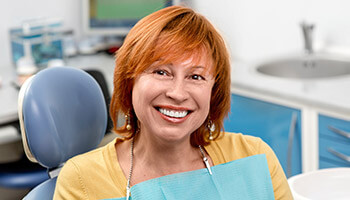 Are you unhappy with your smile and the image you project? Here's a simple activity to help you discover areas of your smile which may need to be addressed:
Hold a full face mirror 12 to 14 inches from your face and smile normally. Take the time to observe your teeth carefully and then answer the following questions:
Are your teeth all in alignment (straight) or does your smile seem narrow and stop at the front six teeth?
Do you have spaces between your teeth that you don't like?
Are your teeth discolored? Do they have old discolored fillings?
Do you like the shape of your teeth?
Are your teeth crooked, chipped, short, or worn?
Do you like the way your teeth come together?
Are there old gray or dark silver-mercury fillings that show in your back teeth?
Do you have a gummy smile or gums that are too thick?
Do you have any old crowns that have dark edges at the top or that don't really look like natural teeth?
Do your gums have a coral pink healthy appearance or are they red and puffy?
Next, think about your smile and answer the following questions:
Do you find yourself smiling for photos with your lips closed or covering your smile with your hand when talking?
Do you love the appearance of your smile and does it compliment the rest of your image?
What do other people observe about your smile?
Are you self-conscious about the way your smile looks?
If you had a magic wand, what would you change about your smile?
Dr. Cuomo and his team are eager to help you have the smile of your dreams. It may be as simple as a one appointment procedure or a more involved cosmetic treatment plan. Dr. Cuomo delivers cosmetic treatments that can whiten, brighten, or even straighten your teeth.
---
Other Cosmetic Services
Tooth Colored Fillings Porcelain Veneers All-Ceramic Restorations Teeth Whitening Cosmetic Bonding