Meet Our Boca Raton Dental Team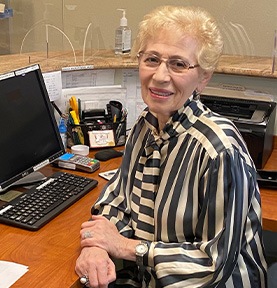 Viktoria, Receptionist
Viktoria has welcomed patients to the office since 1998. She also assists patients with scheduling appointments, filing insurance claims, and answering patient questions. Viktoria began working in the dental field in the mid '70s in the Washington DC area. With her many years of experience in the dental field, Viktoria still loves coming to work, learning new things, and helping our patients. Viktoria makes everyone feel right at home and patients look forward to seeing her when they visit the office.
A native of Kiev, Ukraine, Viktoria studied at the College of Economics and Planning. She moved to the United States in 1975 from the Soviet Union and considers America her home. Viktoria is happily married and spends time with her husband and their two sons. She enjoys art, history, travel, reading, cinema, antiquing, and decorating.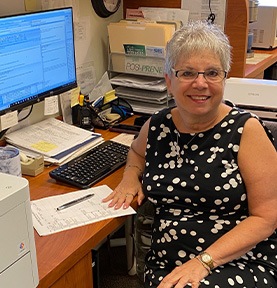 Susan, Receptionist
A Baltimore native, Susan always goes the extra mile to forge meaningful relationships with her patients. She loves working on different projects from Dr. Cuomo! She studied at Catonsville Community College and has been a part of the dental field for over 13 years so far.
At home, Susan has a loving boyfriend and several nieces, nephews, and grand-nephews and nieces. As for hobbies, she spends her free time reading, playing games, traveling, relaxing by the pool/ocean, going to plays and musicals, and gambling at casinos.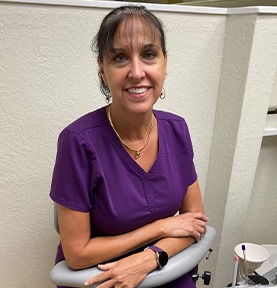 Tina, Dental Assistant
Tina has been working in the dental field for well over 30 years now. She studied dental assisting at Shands Dental School in Gainesville and also was trained by a dentist while living in Hawaii for a decade. In fact, that dentist was the great-great-grandson of the first practicing dentist in Honolulu all the way back in 1819! Today, her favorite part of this job is getting to work so closely with wonderful patients.
Tina and her husband John have a daughter named Angelina and a son named Kameron. When she isn't busy caring for teeth, some of her favorite hobbies include swimming, fishing, and painting.