Tooth-Colored Fillings in Boca Raton, FL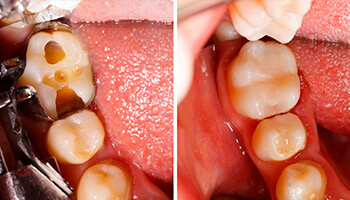 Do you have one or more cavities that are keeping you from enjoying good oral health? For a long time, the best solution for treating decay was with an amalgam filling. Amalgam fillings are made of a variety of metals and have a reputation for being durable. Because of their unattractive gray color, amalgam fillings are not known for raising anyone's confidence. What's more, the fillings increase sensitivity to temperature changes. Over time, they crack, putting patients at risk for developing a new cavity, or breaking their tooth.
The good news for our patients in the Miami, and Ft. Lauderdale areas is that amalgam fillings are no longer the standard. Tooth-colored fillings allow patients to enjoy cosmetic and restorative benefits.
The Benefits of Tooth-Colored Fillings
The most obvious benefit of this service is that your fillings are shaded to blend with your smile's natural color. Once your tooth-colored fillings are in place, no one but you and our Boca Raton team will even know about them. As a result, you can smile with confidence while you enjoy better oral health.
This is just one benefit of tooth-colored fillings. Unlike amalgam fillings, they support your remaining dental structure preserving its strength and functionality. The bond between the tooth and filling also insulates it from temperature changes, and protects against breakage. Finally, tooth-colored fillings are simply a more conservative option. Treating a cavity with an amalgam filling requires the removal of more tooth than a tooth-colored filling does.
Would You Like to Learn More?
Would you like to learn more about how tooth-colored fillings restore a smile's health and beauty? Our team is happy to answer questions or schedule an appointment. When you visit Dr. Cuomo, he performs a full oral exam to identify your needs before making a personalized treatment recommendation. If tooth-colored fillings are right for you, we ensure you know what to expect before moving forward.
---
Other Cosmetic Services
Cosmetic Bonding Porcelain Veneers All-Ceramic Restorations Teeth Whitening Smile Evaluations