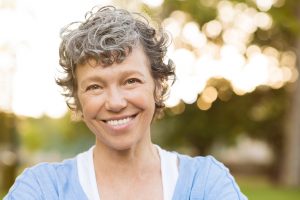 If you've already got a gap or are on the brink of tooth loss, don't wait to find a secure replacement! Leaving those gaps in your smile negatively impacts your self-confidence, and it makes eating and speaking difficult, too. Dentures and dental implants in Boca Raton are two common options for completing smiles. What's the difference between the two? And which may be a better option for you? We take a closer look below.
What Are Dental Implants?
A dental implant is a truly whole-tooth replacement — the only one currently available. It's a tiny titanium post that takes the place of your missing tooth's root. Surgically implanted beneath the gum line, the implant grows together with your jawbone to provide unsurpassed stability for the prosthetic tooth that is affixed on top.
Dental implants can support a single crown, a fixed bridge, or a full denture for complete tooth loss. The benefits of implant dentistry are significant compared to non-implant retained options. The most notable is the fact that dental implants support your oral health by stabilizing your jawbone. Without the stimulation provided by a prosthetic root, your jaw will gradually degenerate and lose its volume. But with dental implants, your jawbone stays healthy and whole for a lifetime to come.
For eligible candidates, dental implants are the premier option in tooth replacement. Not everyone is suited for the procedure, however. Patients should be in good oral and overall health to support proper healing following dental implant placement. People with severe levels of gum disease or health conditions affecting the immune system should seek an alternative solution — like crowns and bridges or traditional dentures.
What Are Dentures?
A traditional denture is a set of prosthetic teeth that fills the gaps in the smile or take the place of a whole row of missing teeth. The partial denture fits in with surrounding natural teeth like a missing puzzle piece, and a complete denture fills an entire arch in the upper or lower jaw.
When not supported by dental implants, the partial denture is secured by clips or brackets. A complete denture uses natural suction and maybe a denture adhesive to stay securely in place.
With proper care and maintenance, your denture will work well for five to seven years before it requires replacement. If you begin to notice your denture losing its fit or sliding around, see your dentist. You probably need an adjustment or reline.
Traditional dentures in Boca Raton are a fine option in tooth replacement, and may be preferred by older patients, or those who are not good candidates for dental implants.
Seek a Sturdy Tooth Replacement Today!
We don't need a replacement program to complete your smile. We are already prepared with dentures and dental implants! Don't wait to seek a sturdy replacement for your gapped smile. Request an appointment at Dr. Gerard Cuomo's office today!