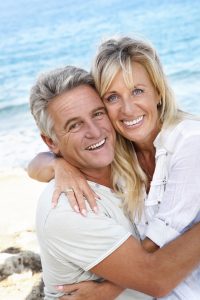 If you're like most people, then when you see your smile in the mirror or in a photograph you notice the little details—the one tooth that is chipped, another that is discolored and the two that are slightly rotated. Is there a relatively simple way to erase these imperfections and create a more beautiful smile? Yes! With porcelain veneers in Boca Raton, Dr. Gerard Cuomo can transform your teeth so the smile you see is nothing less than perfect.
Whether called porcelain veneers, dental veneers or just veneers, this cosmetic treatment is designed to conceal flaws and create a brand new smile. Veneers are made of thin layers of natural looking dental porcelain. They can be used to correct one or several teeth and require minimal tooth preparation.
Am I a Candidate for Porcelain Veneers?
Most people are qualified candidates for veneers, but a consultation with Dr. Cuomo is important. He will need to examine your teeth and gums to make sure they are healthy and strong enough to support porcelain veneers. Any pre-existing conditions such as tooth decay or gum disease will need to be remedied before you receive veneers.
What Can Veneers Correct?
In addition to altering teeth that are chipped, discolored or rotated, porcelain veneers can also be used to conceal several other smile imperfections. These include:
Cracked or broken teeth
A tooth that is smaller and disproportionate in size
Misshaped teeth
Teeth that are worn and uneven
Receiving Porcelain Veneers in Boca Raton
After your initial consultation with Dr. Cuomo, placing veneers usually requires no more than two appointments in our office. During the first of these, Dr. Cuomo will administer a local anesthetic and then gently remove a very thin layer of enamel from your teeth. This represents a permanent alteration to your teeth, so deciding to have veneers is a long-term commitment to always having coverings on your teeth. Removing some enamel ensures that your veneers will lay flush with your other teeth and not look too large in your mouth.
Once this step is completed, we'll take an impression of your teeth that our dental lab will use to fabricate your veneers. Along with Dr. Cuomo's instructions on size, shape and color, these impressions allow the lab to create veneers that look and feel like natural teeth.
While your veneers are made, you'll wear a temporary set. Then at your follow-up visit, Dr. Cuomo will remove the temporaries and bond your customized smile in place. Now you will always see a smile that is picture perfect!
Call Our Office Today
If you would like to have a new smile, then schedule a consultation with Dr. Cuomo in Boca Raton, FL and learn more about porcelain veneers.