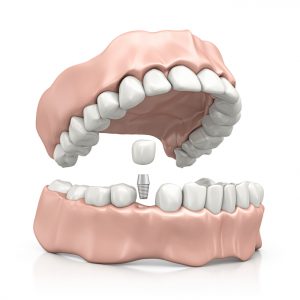 Dental implants are now widely used to replace the root of a missing tooth, which allows for a prosthetic tooth to be placed onto the extension post. Dental implants are now the preferred option to replace missing teeth because they offer a lifelong solution. Not to mention, when compared to other forms of tooth replacement, the benefits of dental implants far exceed those of any other. While dental implants are effective and highly preferred, it does involve a surgical procedure. As a dentist for dental implants in Boca Raton, Gerard Cuomo explains the surgery needed to receive dental implants.

Dental Implant Surgery
Dental implant surgery is necessary to replace the tooth root with a metal implant post, which looks similar to a screw. This then allows for an extension, known as an abutment, to be placed on the post to hold a prosthetic crown in place. While the underlying procedure remains the same, there can be certain variations to the process depending on how many teeth are being replaced and where the implants are placed. To ensure the highest level of success and results, the process to receive dental implants will take place in various phases.
After the procedure is complete, you will have a permanent solution to replace missing teeth, which is ideal for those who want an alternative to dentures or a dental bridge. In addition to a permanent solution, dental implants also promote oral health. When a tooth is lost, the underlying bone is no longer stimulated. As a result, the remaining natural teeth begin to lose support. Over time, the teeth will begin to shift and eventually fall out. However, by inserting the post into the jawbone, your bone will be stimulated, which will stop and potentially reverse bone loss.
Candidates for Dental Implants
Generally, just about everyone who has tooth loss can get dental implants. However, there are certain instances that will make you unsuitable for the surgery. You must have health gums and bones, while also free from any medical conditions or lifestyle habits that impact the body's ability to heal or fight infections.
Risk for Surgery
While dental implant surgery is considered to be safe, as with any surgery, there are certain risks involved. Complications occur very rarely but they are still a possibility, which may include infection at the implant site or injury to surrounding supporting structures. In rare cases, there may be nerve damage or sinus problems due to the implant protruding into the sinus cavity.
Benefit from Dental Implants
If you are ready to replace missing teeth with dental implants, you will first need a consultation with Dr. Cuomo. Dr. Cuomo will determine if you are a successful candidate for implants. If you are, he will create a customized treatment plan to begin restoring your smile. In some cases, you may require additional procedures, such as tooth extractions or bone grafting, prior to undergoing implant surgery. Dr. Cuomo will explain each procedure needed to ensure your new smile with dental implants is successful.