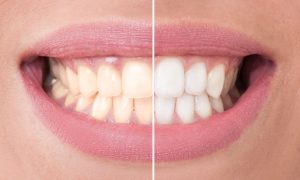 When you look in the mirror, does your smile shine as brightly as the summer sun? If your answer is no, you may want to consider Zoom! Teeth Whitening from your cosmetic dentist in Boca Raton. As we age, our smiles naturally lose their bright white appearance. When you combine age with certain factors, like smoking and heredity, your smile will dull even faster. Plus, the foods and drinks you consume also impact the brightness of your teeth. No matter the cause of your discoloration, we're able to get your teeth as much as 14 shades whiter with professional teeth whitening in Boca Raton. In just one visit, you'll have an amazingly white smile to show off this summer.

What is Zoom! Teeth Whitening?
Our professional teeth whitening treatment is an in-office treatment that's safe and effective for whitening teeth up to 14 shades whiter. Using the Zoom! Whitening System, we carefully apply the safe whitening gel to your teeth. With the use of a special light, the gel activates the hydrogen peroxide gel to penetrate the tooth's enamel. The special gel and light deeply infiltrate the tooth's enamel to lift tough stains for a brighter, whiter smile. As the 25 percent hydrogen peroxide gel is broken down by the light, oxygen then penetrates the enamel and dentin, allowing the bleach in the gel to reduce the appearance of stains. This offers an effective way to whiten your smile without causing any harm to the tooth.
When choosing this whitening treatment, you will need a series of two to three treatments, which last about 10-15 minutes each. In about 45 minutes, you'll have a beautiful new smile just in time for summer.
Why Choose Zoom! Whitening?
When you want a whiter smile, many turn to home remedies or over-the-counter whitening treatments. While these treatments are affordable and convenient, the reality is that they aren't very effective. Most don't see any results at all, while others see very little results. Plus, if any results do occur, they usually don't last.
Choosing Zoom! Whitening allows you to invest in your smile with results you'll actually see. Not only will stains instantly fade away for whiter teeth, but your results will last. In just one office visit, you'll have a dazzling new smile to transform your look for summer.
How Long Will Results Last?
Zoom! Whitening is specifically designed to produce lasting results. The length of time your teeth stay white varies on a number of factors, such as your contact with stain-causing foods and products. If you avoid stain-causing foods, like coffee and tea, and avoid tobacco use, you'll have long-lasting results. To help keep your smile as white as possible, there is even a take home kit to perform touch ups at home.
Teeth Whitening from Your Cosmetic Dentist in Boca Raton
As a cosmetic dentist, we proudly offer Zoom! Teeth Whitening in Boca Raton to brighten your smile for summer. We'll remove stains and discoloration for a more vibrant smile. Call our office today at (561) 325-6652 to schedule a consultation.